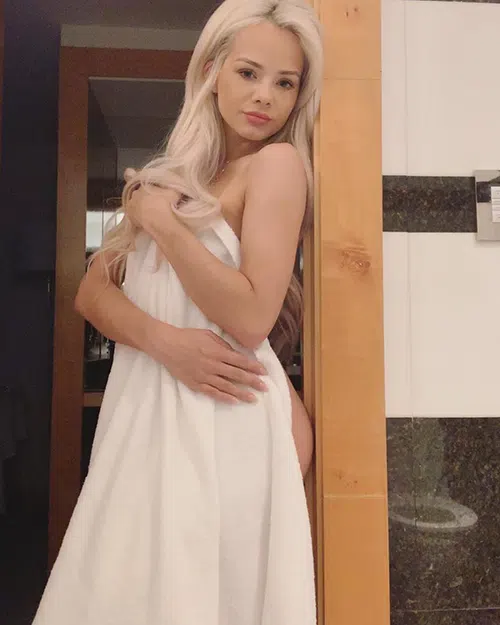 Age: 23
Height: 5'3"
Weight: 120 lbs.
Ethnicity: American
Hair: Blonde
Eyes: Brown
It's all about having fun for me…and since you're on my profile, you must love fun, too, right? My name is Emily, and I've been in Las Vegas for quite a while. I grew up as a military brat and love to travel. Once my parents moved to another base, I chose to stay here because, well, SIN CITY!
I spent quite a bit of time learning how to dance, but it wasn't something I enjoyed on the stage. However, I did find out that I love being the center of attention – just a bit more privately. That's when I stumbled upon providing massage. Some of my friends were massage girls in Las Vegas and it sounded like so much fun.
There's nothing quite like seeing the joy across a man's face when I provide a sensual massage. I also love to do some role-playing while I'm at it. What this means for you is that I can wear just about any costume you can think of – French maid, schoolgirl, nurse, secretary. I even have wigs, so if you're not into blonde girls, I can be a redhead, a brunette, or even a showgirl with turquoise hair. Let's make some of your fantasies come to life.
In Vegas, I want you to get everything you want. And that's why an outcall massage 24/7 is so important. Why should you be limited to getting a massage during the hours of a spa or salon? If you're working late and want to release some tension, just call me and I can come over. I'll make sure you're comfortable and then go to town, running my hands all up and down that sinewy muscle of yours.
Of course, massages are only part of what I do. I happen to be a great conversationalist – and some of my friends have even said that I should have gone into counseling. I can listen to your woes as I rub you down. And when you've got your needs met, we can even hit the town. Want to go to a club? A nice restaurant? Stroll down The Strip? I'd be happy to be at your side for all of it.
Sure, heads might turn when people see you out with a young blonde, but who cares what they think, right? You may only be in Vegas once, so get all you want from the trip. Call or click today so that you can book a few hours with me.