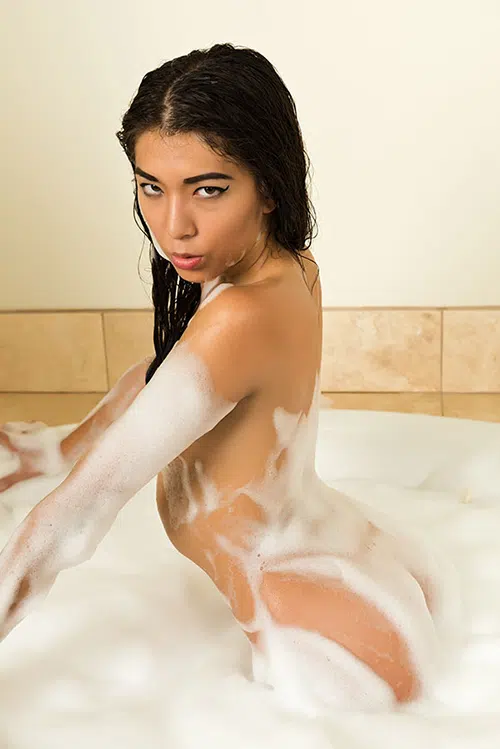 Age: 22
Ethnicity: Latin American
Hair: Black
Eyes: Dark Brown
Weight: 122
Height: 5'2″
Massage. The very word puts you into a relaxing state, doesn't it? I enjoy giving massages! The feel of a woman's touch on your body is unlike any other, and I guarantee the outcome after our session is sure to be one that is pleasing.
I am available to give private massages at any time, day or night, for as long as you desire. It is not at all difficult to meet up with me either. You just call or leave a message with the service and they will handle the scheduling. Your desired timeslot is taken into consideration and we will make every effort to meet your demands.
I am a Latina woman who has lived in Las Vegas for about four years. I came here directly after highschool and I enjoy it very much. I like to take my clients out for a little while before we get down to the massage session. This helps me to learn more about their personality, helping me to tweak my massage performance accordingly.
If you like shy girls, I am not the one for you. I am an outspoken woman. I will let you know how I feel at any given time and It can be rather intimidating if you aren't ready for it. That is why I want to warn you about that right now. If you like a lady who speaks her mind, you won't have any trouble at all with me.
I like to take charge. This could turn off some guys, so again, if you want to be the one wearing the pants, then pick another woman. If you like being told what to do…then I am your gal. Some guys find this extremely sexy and I use it to my advantage with our date time together. It will get you into the mood for the relaxation I will be providing.
We will start our session with a simple dinner out in the city or spend some time at a casino trying our luck at some slots. After we engage in some healthy banter, I'll give you the signal that I'm ready to head back to your hotel or home. It's here that the real action will take place.
I will strip down before your eyes and you'll probably be so flabbergasted by this point that you won't know what to expect next. I'll let you in on a little secret….I'm not telling! Hahaha. No really, I am not. What happens during our massage session is totally private and we will take it as it happens. I'm sure you'll be thrilled with the timeline of events, however, and I encourage you to give that call or text to the service to book me for a date. This may be one of the best moves you have ever made. And that isn't a lie. Have I piqued your interest? Do you want to hang out with a sexy Latina Vegas girl like myself? Do you think you have what it takes to make that first step to book our date? I'm waiting!