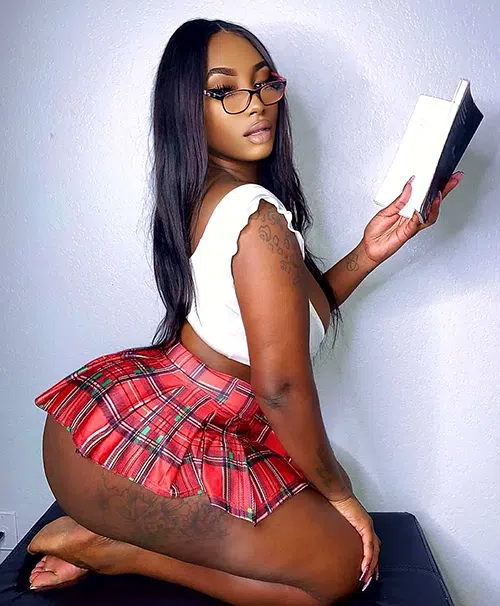 Age: 24
Height: 5'4"
Weight: 130 lbs.
Ethnicity: African American
Hair: Black
Eyes: Brown
Hello, Vegas! I'm so glad that you landed on my profile because I have big plans for the two of us. My name is Zakeria, and I consider myself to be a hot massage girl. I know my curves and I know how men look at me when I'm at the beach or just walking down the street. Let's just say that I get my fair share of attention because of my looks – and I don't mind a bit. In fact, I usually dress to make sure that heads turn. It's fun to be flirty and seductive, especially when you have curves like I do.
I've been educated in the fine art of massage for a few years now. It started out as a way to flirt with men, and it turned into something that I absolutely fell in love with. I love how providing in-room massages can lead to all sorts of fun and excitement. Rather than wearing boring clothes that confine my curves, I can show off my erotic side with lace lingerie, barely-there swimsuits, and more.
My goal is to make you feel comfortable from the moment that we first meet. I've got a great sense of humor and love a man who can laugh. I'll make sure that you get the most out of your's truly massage, too. We'll start off slow so that you can get to know me a bit. From there, I'll speed things up and always know just when to apply the perfect amount of pressure. If you want things harder, softer, slower, or faster, all you have to do is communicate to me.
While I absolutely love watching men (and couples) come undone underneath my touch, I also enjoy going out on the town. If after you've gotten a massage, you want to check out the clubs or get into some trouble, I'm definitely the girl who is up for anything and everything. I've been in Sin City for a while now, so I can always point us in the direction of fun.
What do you say about getting into some trouble with me? All you have to do is call or click to make this happen. I'm an erotic black girl who is in high demand because of my incredible talents. Don't miss out on the chance to meet me while you're in Vegas. I promise that I'll make it worth your while when you book a massage (and more) with me.