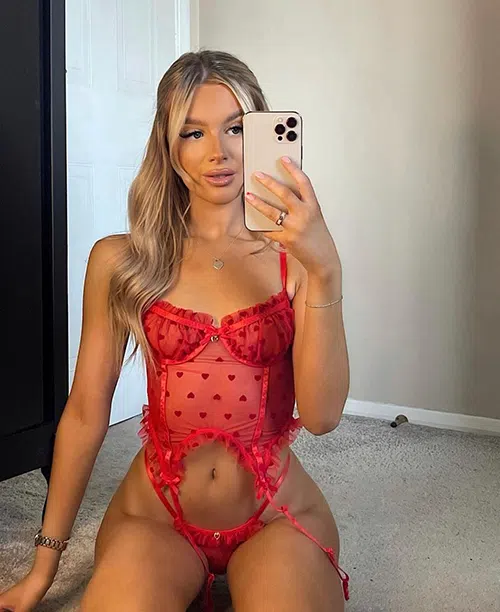 Age: 22
Height: 5'5"
Weight: 120 lbs.
Ethnicity: British
Hair: Blonde
Eyes: Hazel
Thank you so much for visiting my profile. I'm excited to tell you all about me so that we can move forward with giving you the massage of a lifetime. I fell in love with Las Vegas the moment that I stepped into the city. There is always so much action, and I knew that I wanted to stay here forever.
I'm outgoing and love to be hands-on with anything that I do. So, naturally, offering massages seemed like the right thing to do. I quickly learned that I have quite the talent for it and have become one of the hot massage girls that are highly sought after. I love to take my time, go slow, and really work on the areas where you need a release.
My goal is to help you bring some of your fantasies to life. The way that I do that is by role-playing and providing a sensual experience. I have an impressive selection of lingerie, and that is what I usually wear when performing a massage. This provides you with a better view and helps you to relax. Of course, I love talking dirty to my clients, so we can flirt and have some fun during our time together.
With so much to see and do in Vegas, you may not want to spend all of your time in your hotel room. Whether you have come here for work or for pleasure, there is no reason why you can't have a little fun – and that's where I come in. We can start out by exploring a bit of Sin City, such as visiting a strip club, walking through the casinos, or even dining at one of the celebrity chef-owned restaurants. Then, we can head back to your room where we can have a little bit of privacy.
This is where the fun happens. I'll ask you to get comfortable so that I can start providing you with an unforgettable massage. You are in control – so whether you want it to happen on the bed, in the shower, or even in the bathtub, I can give you a rubdown that will release all of your stress so that you feel like a new man by the time our evening is over.
I'm quite an open-minded girl, too. I love watching couples rediscover each other – so if you happen to be in Vegas with your significant other, invite her along. I have plenty of friends here who would love to help me with a couples massage.
Are you ready to book? Call or click so that we can meet soon!