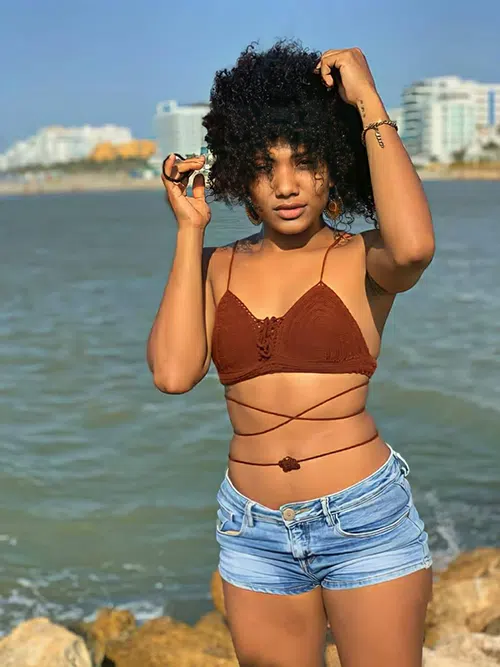 Age: 23
Height: 5'4"
Weight: 120 lbs.
Ethnicity: Caribbean
Hair: Black
Eyes: Brown
There's only one real way to have fun while you're in Vegas – explore the adult entertainment that is available. Since you've clicked on my profile, I might as well introduce myself. I grew up in a small town in the Caribbean. I spent much of my teen years sunbathing on a beach, wearing bikinis, and sometimes even nothing at all.
I wanted to experience more than what my small town had to offer, so I headed to Las Vegas. The showgirls and the sin of Sin City attracted me here – and I love everything that is here. I've done quite a bit, but I've found that I really enjoy giving massages. There's something highly erotic about being able to let my hands wander all over a stranger. And since you're considering a massage with the prettiest girls Vegas has to offer, you know what I'm talking about.
I've discovered quite a few kinks since working in Vegas, so if you have a particular one that you want to put to the test while we're together, I'm game. I've always got my toes painted, so if you have a foot fetish, let me oil you down using only my feet. And if you want to do some role-playing, we can certainly do that, too.
I started out as an art major, so I find that there's a significant amount of beauty in the human form – no matter the age or the size. You don't have to feel nervous about being around me. I'm down to earth and I'll think of you as a work of art no matter what. On that note, we can also check out some of the art around the city, whether you want to take me on a date to an art gallery or check out the art in the many casinos around The Strip.
We can enjoy each other's company across Vegas and, then, head to your hotel room. Once the door closes, you can enjoy a sensual massage with my hands all over your body. Happy ending? I guarantee it.
Are you ready to take your time in Sin City to the next level? Start clicking or make the call now!