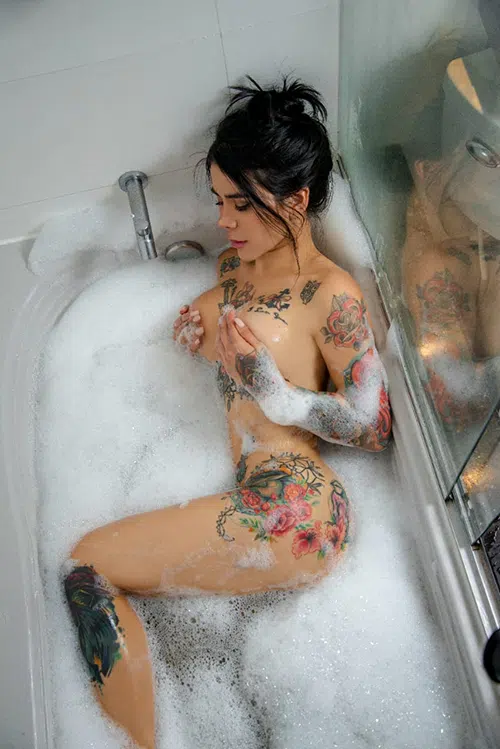 Age: 26
Height: 5'6"
Weight: 142 lbs.
Ethnicity: Italian
Hair: Black
Eyes: Brown
Well, you're here, so that means that I didn't scare you off with my tattoos! Often, people see the tattoos and my dark hair and instantly assume that I'm some edgy girl. That's not it at all. I'm an Italian who knows what she likes in life. And as an art major, I decided that I wanted my skin to be a canvas just like what I use in the studio.
I'm actually as sweet as can be – and my massages tend to be light and delicate. I love taking a sensual approach with lots of massage oil. And a NURU massage can always be arranged where we use a slick gel so that my body can glide across yours. I get worked up just thinking about the possibilities…
I love role-playing, but I absolutely adore role-playing with a bit of darkness. Throw in some BDSM rope play and blindfolds and I'm a happy girl. I can be the top or the bottom. And if you want me to play dominatrix for a while, I have plenty of black leather to help us get into character.
I've been in Vegas for a while now, so I know the heartbeat of the city. Some of my besties work as strippers at the hottest clubs, so I can make sure that we get plenty of attention when we walk through the door. If you think you've gotten a great lap dance before, try it when a girl like me is sitting beside you!
I love to provide a full experience when we're together. That means that you don't have to call it done as soon as I've given you a massage. This isn't like your typical massage parlor. You can book for as long as you'd like. We can get to know each other while I work on your muscles while soaking with you in a bubble bath. Then, we can move to the bed where I can really knead the tension out of you. From there, we can take a steamy shower and hit the town so that you can enjoy some of my companionship.
There are so many erotic and sensual possibilities when you want a massage. Just ask for Mariana when you call or start clicking to make your reservation.